So far in 2015, there have been countless cases of mass identity theft. In the United States alone, millions have been victimized in data breaches and the year is not over yet.
While improvements to identity security, such as through Chip-and-Pin credit card technology, are making an impact — it's not enough!
If you want to stay safe, avoid underestimating the value of each of these 10 great ways to prevent identity theft!
1) Consider a Credit Freeze 
If you really stress over needing to avoid identity theft, the credit freeze is a more than the fraud alert when trying to avoid identity theft risks. This can help you prevent identity theft in many ways; with a credit freeze, a creditor will not be able to access your credit report without prior authorization from you.
The specific fees and laws for placing a freeze on your file will depend on where you live. So, make sure to find your state's credit freeze laws before considering this option.
Pro tip: Placing a credit freeze typically costs $3 to $10, depending on your state.
2) Get Your Free Credit Report, 3x Annually
You are entitled to a free credit report from each of the three major credit-reporting agencies, once per year. The easiest way to get your free credit report is by going to www.AnnualCreditReport.com, which is also the only website authorized by the three major bureaus to give out your free annual report.
Do not request your three credit reports at once. You can request a free credit report from one of the three bureaus. That way, you are able to view your credit report information at no cost multiple times per year.
Pro tip: Save your money, credit reports are free even without credit monitoring!
3) Set Up Fraud Alerts
You can request a 90-day fraud alert from Equifax, Experian, and TransUnion. It just takes an application at one of the three, and then that bureau notifies the others. The alert is typically set up when you have a reason to believe your identity might have been stolen. It lasts for 90 days, and then you can request that it gets renewed.
The 90-day fraud alert is free to request. It's not a bulletproof way to prevent identity theft, as creditors are not legally required to contact you to confirm your identity.
4) Improve Online Account Security
To further prevent identity theft exposure, make sure to limit what you expose about yourself on your online accounts. This includes the information that only shows when you log-in, and details about you that only staff can see. You can always set up two-factor authentication on your sensitive accounts to further deter hackers; it's often impossible to prevent identity theft once your information gets compromised in a data breach.
5) Educate Yourself on Identity Theft
Knowing is half the battle, and with identity thieves always finding new angles to take — you must take the time to learn how to protect yourself. This means more than just finding a list of random identity theft prevention tips. If you have the time, read through 'The 100 Best Ways to Prevent Identity Theft' by Elite Personal Finance to get a detailed list of the many ways you can secure your identity.
6) Monitor Your Social Security Number (SSN)
Hands down, your SSN is the most dangerous piece of information an identity thief could hold over your head. If a fraudster gets their hands on it, they could try to do much more than just open new credit lines in your name. Your identity might get used to avoid paying fines, to score free medical procedures, or even to work a legitimate job while living under 'illegal alien' status.
Pro tip: If you track your SSN statement online, you will be more likely to prevent identity theft attempts from affecting you.
7) Improve Your Mailbox Security
Many identity thieves steal mail right out of your mailbox to get information on you. This is even more common around tax return season, which is when the most financially-damaging identity fraud attacks happen. In fact, according to the Federal Trade Commission (FTC), tax return identity theft was the most-reported type of identity crime in 2014.
The best way to improve your mailbox security is to invest in a post office (PO) box. If you are a student, and a PO box is not an option, you can consider redirecting your mail to your parents.
8) Be Careful Shopping Online
Shopping online can be dangerous, but it's less so when you use a trusted third-party payment processor. For instance, you can pay through PayPal and limit yourself to trusting a single reputable corporation instead of various online shops.
Frequent shoppers should invest in prepaid, reloadable credit cards for their online shopping needs.
9) Secure Your Smartphone
You cannot prevent identity theft if your information is always accessible. Make sure you are cautious about the documents and images that are stored on your smartphone. This includes the contents in cloud-based storage.
While improving your phone's security will not prevent identify theft, it could stop a phone thief from getting your sensitive information. For best results, you can also install a 'phone locker' that will disable (and even clear) your phone to keep your information safe.
10) Keep Your Cards Hidden
Whether it's your credit card or your SSN card, you do not want anyone else to have access to it. This means you might not want to keep your cards in your purse or wallet — if someone steals it from you, all of a sudden all those cards are gone. Keep your SSN card at home, except for when it's needed — at the very least, this is the one physical card you truly want to keep from others.
Conclusion: You Can Protect Yourself!
There is no need to spend money on credit monitoring or identity theft protection. Many of the preventative features these services offer are available to you at no cost. They are just protected by layers of marketing; if you take the time, you CAN protect yourself!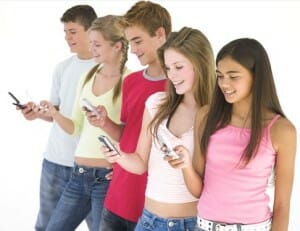 The little boy who used to beg you to take him to the park every afternoon or the sweet young girl who used to love riding bikes with you around the neighborhood is now a teenager who is, for all practical purposes, addicted to technology.
As a parent, you probably feel like you see more of the top of your teen's head than his or her face, and you worry that the only part of your child's body that gets a regular workout are the thumbs.
Fortunately, with the right combination of encouragement, collaboration and solid role modeling, it is possible to get your teenager off the couch, off the phone, and back outside for some much-needed fresh air and exercise. For example, check out these tips:
Take Note of Your Own Phone Habits
Even if they seem like they are ignoring you most of the time, teenagers are definitely watching what you are doing. If you are constantly checking your emails or Facebook updates while sitting at a restaurant with your family, your son or daughter is more likely to follow suit. As Common Sense Media notes, as a parent, you have to model the manners and behaviors that you want to see in your teens. Before you start asking your teens to put their phones down and get outside, do the same. Stop texting during dinner, start making an effort to get regular exercise and see if you can go for a day or two without playing Candy Crush—your teens will be impressed, and more likely to do the same.
Brainstorm Fun Things to Do Together
When kids morph into independent teens, parents might feel like they no longer know what these quickly-growing young adults like to do—outside of texting their friends. Tell your teen that you'd like to spend more time together, and then ask your teen for ideas and also brainstorm some activities that you can try. For example, you could strap on your dusty old roller blades and see who can zip around the neighborhood the fastest, or you can go bowling one afternoon after school. Head to a paint ball facility and have a blast zapping each other with paint balls, or go to the local Go Kart track and race your budding driver for a few laps.
You can also set up old fashioned games in the backyard and encourage your teen to invite friends over for some fun games of badminton or lawn bowling. If you have a backyard pool, ask your teen to go online with you and pick out a new pool game; for example, In The Swim sells a great in-ground pool volleyball game that is perfect for friendly competitions among family and teen friends. By making your teen part of the decision making process, it will encourage him or her to be part of the action.
Encourage Exercise with Tech Rewards
If your teen is reluctant to swap text time for a brisk walk with the dog, you may have to play parental hardball. After all, you are the boss and you can determine just how much screen time your teen is getting on a daily basis. Up the ante a bit and tell your teen that in order to use his phone, he will have to earn it with some physical activity. Every minute that he spends doing something physical outdoors can be traded equally for phone time. Or, tell your daughter that she can get bonus screen time minutes by walking to the store with her friends for a snack, or taking her little brother to the park for an hour.