Katherine Pham and Gabriella Mariscal wanted to take storytelling at their school to the next level. Feeling inspired by the work on the Facebook Page Humans of New York, the two High School Seniors created Humans of Loara. With the support of their advisor Paul Chylinski, the students set out to improve their school the use of social media.
"We wanted to share the stories of our students here at Loara," said Gabriella. "Once we had that idea, we took our idea to Mr. C and he was on board. He has truly been a big impact on our senior year and been a big support and making sure we do what we said we were going to do."
"It's crazy how many people we have covered," said Katherine. To date the page is host to nearly 300 stories of students, staff and alumni.
The goal of the page is to bring you to a more in depth personal understanding of the people that make up Loara High School. People share their successes, struggles and experiences of their time at Loara. Some of the notable stories include a former gang member, Eddie, who went from a straight F student to a straight A student. "These stories give our students a little more inspiration and a little more hope," says Gabriella.
"They have covered staff, students, alumni and more," said Paul. "I'm so proud of what these two students accomplished and the impact their work has had on spreading positivity to our campus climate and culture. They posted two photos and two stories every day of the school year on top of their school work and activities, they are committed to their school."
Loara is looking to expand their work online by establish a website later this year. In addition, they are in the process of adding a YouTube channel called "Voices of Loara." The school has taken some of the posts and turned them into posters to be placed around campus. This is a model that other schools in the district are following to help spread kindness throughout the school district.
Celebrating Loara High School and their Humans of Loara Project on Instagram and Facebook.

About us:  #ICANHELP is a Bay Area-based national nonprofit organization that creates and promotes positive, school-based solutions & interventions to online harassment and bullying. We are a project of the Net Safety Collaborative.
Loara High School is located in Anaheim, CA and is part of the Anaheim Union School District.
I usually use the power of pause when writing about posting online – pause before you post, send an email or text message. Always keep in mind — there is no rewind online.
However emotionally speaking, words can destroy your life, which have literally taken the life of many young people and even adults.  The power of pause has another important meaning when it comes to getting behind the wheel of your vehicle.
At any given daylight moment across America, approximately 660,000 drivers are using cell phones or manipulating electronic devices while driving, a number that has held steady since 2010. – Distraction.gov
Five seconds is the average time your eyes are off the road while texting. When traveling at 55 mph, that's enough time to cover the length of a football field blindfolded. – Distraction.gov
Distracted driving kills. The friends, family, and neighbors of the thousands of people killed each year in distracted driving crashes will tell you it is a very serious safety problem. The nearly half a million people injured each year will agree.
Wednesday, October 5, 2016 is Distracted Driving Day. Be a part of bringing awareness to your community.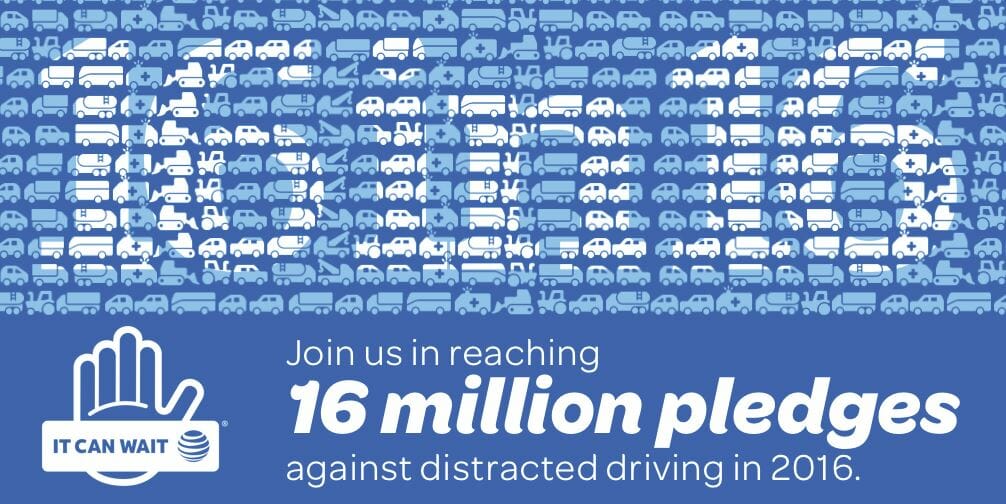 As  part  of AT&T's It Can Wait pledge competition to achieve 16 million pledges in 2016 and end smartphone distracted driving, the company is challenging drivers to put down their phones for 21 consecutive days.  Why 21 days? Experts say it takes at least 21 days to make or break a habit.
According to research, habitual distracted drivers have a false sense of security in their actions. Only 58% feel that using their smartphone behind the wheel is "very dangerous," compared to 78% of non-habitual distracted drivers.
AT&T hopes that through the 21-Day Challenge, drivers who participate will make safe driving a lifelong practice.
Habitually stowing your phone out of sight and reach, or using a free app like DriveMode that silences alerts, can help you break the dangerous habit of smartphone distracted driving.
The 21-Day Challenge comes just weeks after AT&T's latest It Can Wait public service announcement started airing. The powerful PSA reminds drivers we may be alone in the car, but we're never alone on the road. The PSA resulted from research that showed people are more likely to be distracted by their smartphone when they're alone in the car.
AT&T is hosting pledge events in more than 30 states and recruiting local organizations, schools and community leaders to participate in the It Can Wait pledge competition.
To take the pledge never to drive distracted, go to www.itcanwait.com.
The fact is, everyone knows that texting and driving is risky, but they continue to engage in it anyway. Don't wait to become a statistic — don't wait to hear about your friend or family member to become one. Be proactive.
Let's take the challenge in the POWER TO PAUSE with our devices. When you turn on the car — turn off your phone. The fact is, we are guilty in being distracted by the bells, dings, whistles, and lights that our phones will send us while we are driving. It only takes a few seconds to glance over and suddenly realize you no only have control of your vehicle.
Watch the following PSA's – and you will soon realize — #ItCanWait.
Share these with your friends and family and remember, don't wait to become a statistic.
"Distracted Driver Awareness Day" is October 5, 2016. On this day, people from around the world will use come together and use social media to help raise awareness about the dangers of distracted driving.
Prior to and on October 5th, we encourage everyone to create and share posts, images, videos and real-time live streaming video shows to raise awareness as to the dangers of distracted driving. Offline we will be supporting local community events focused on educating and raising awareness about the dangers of distracted driving. We welcome your pictures, videos and stories at http://StopDD.Today and on social media using #StopDD.
Please share "Distracted Driving Awareness Day" with your family, friends, and community. Encourage everyone to use the links and resources found at http://StopDD.today, to raise awareness and save lives!