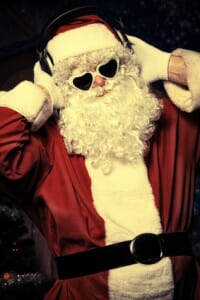 The National Retail Federation estimates online purchases for the 2012 holiday season will reach $96 billion, up 12 percent from 2011. Scammers, hackers, and "phishermen" have already taken their positions, waiting for the next unwitting shopper to carelessly give out personal information.
Luckily, Santa is providing shoppers a guide to ensure online and other shopping experiences are safe and efficient. There's already enough stress with cooking, decorating and preparing for family to arrive. Shopping can be the easiest part of the process if Santa's advice is followed.
"S" is for Security
Everyone has received emails that look like they come from legitimate retailers, only to discover the hyperlink provided leads to a phishing website. Shoppers should always type the URL of the retailer directly into the address bar, as opposed to clicking just any links in your email. A credit card should always be used for online purchases since they provide some level of protection from fraud that debit cards don't. A service like Lifelock would add an extra layer of protection against identity thieves and scammers for online shopping.
"A" is for Availability
Patients is a virtue, but not when the hottest toys and electronics are on the wish lists of your friends and family. From Cabbage Patch Kids in the 1980s to the release of the Playstation 2 in 2000, popular items must be purchased the first time one is available to you. Granted, the price of such items may drop following the holidays, the wait could extend into the springtime and beyond.
"N" is for Name List
Those who brag about getting holiday shopping done long before Christmas Eve likely had a gift list and checked it twice. The names of all the children should be clustered together, as many of their gifts can be purchased at the same store. The primary culprit to last-second, frantic shopping is forgetting Aunt Edna and Uncle Mike are both expected in town for dinner. A name list not only keeps you organized, but gives you a way to track your overall progress.
"T" is for Technology
Smartphones are your best friend when it comes to finding the best deals and comparing prices between different retailers. ShopSavvy is an Android app that allows shoppers to scan the barcode of any item and produce a list of retailers and online stores that carry it. This is a great app for price comparison and can give you leverage in negotiating deals. SnapTell, which is free and available for Android and iPhone, allows users to simply snap a photo of the item and it looks up prices based on an image search. Google Wallet, available for Android, allows shoppers to pay for purchases with their credit and debit cards without actually having them. A near field communicator transmits your card information to any point-of-sales terminal by simply tapping your phone somewhere near it.
"A" is for Avoid Debt
Though credit cards are the best way to shop online because of their fraud protections, debit cards and cash should be used at local retailers. The holidays are a time to enjoy family, friends, and an extended vacation. Avoidable debt will only add to the stress and anxiety already present with all the shopping and preparation.
Contributor:  Don Campbell – Donnie has been working on trucks and volunteering at the neighborhood soup kitchen for 15 years. He keeps a blog about his favorite cars and supporting his favorite charities.