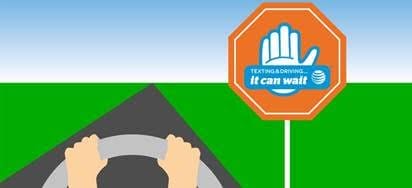 If you are one of the 41 million of Americans hitting the road this Thanksgiving holiday, AT&T is urging you to keep your eyes on the road and your hands on the wheel. There's nothing on your phone that can't wait until you get to your destination safely.
To help you fight the temptation to text while driving while heading home this holiday, AT&T tools you can use:
Download the AT&T DriveMode app. It is a free app that silences incoming text message alerts so you can stay focused while driving.
Use #X.  Just send "#X" to end your text, email and social conversations before you start your vehicle.  It's a simple and effective way to eliminate a dangerous distraction.
In addition to these tools, AT&T also offers the following tips to help ensure a distraction-free holiday drive:
Designate a passenger to manage your texts and calls while you're driving.
Use scheduled food, restroom and gas stops to call or text, letting friends and family know your location and expected arrival time. This can reduce the amount of incoming calls/texts that can be distracting.
Update your voice message before going on a road trip… let callers know you are driving and will gladly respond to their call on your next scheduled stop. This is a great way to reduce repeat calls from an eager caller.
Consider a hands-free Bluetooth accessory that will read out texts and let you answer calls with voice prompts. You can then choose to make a stop to continue a conversation or to respond to a text message.
Courtesy of Kelly Starling, AT&T