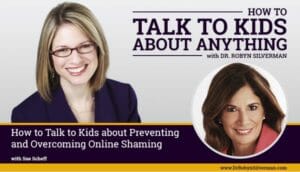 With the rise of online cruelty, cyberbullying is literally killing young people. Bullycide is now a word we are dealing with in this generation – death by humiliation.
Recently I chatted with Dr. Robyn Silverman about talking with our kids and teens about preventing and overcoming online shaming and cyberbullying. My recent book, Shame Nation: The Global Epidemic of Online Hate (Sourcebooks) which was just released on October 3rd, 2017, outlines surviving, preventing and overcoming digital disasters.
Take the time to listen to Dr. Robyn and myself in this #TalkToKids podcast. The more you know – the more you will be able to help your kids be safer online.
The podcast provides:
Tips on How to prevent online shaming. Sue provides guidelines to adhere to when posting online. Such as being mindful of what you post, learn patience, de-clutter your friends list!
Tips once online shaming or cyber bullying has occurred.

Steps to triumph in the area of online shaming.

How to build up and humanize your online persona.

How to check-in with yourself- am I representing myself in the way that is genuine and kind?
And much more!
Order Shame Nation today at your favorite bookstore.