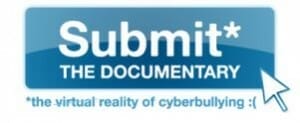 It is National Bullying Prevention Awareness Month a perfect time to release a film that can speak to many educators, parents, students and our communities about online harassment.
Our headlines can be disturbing as we read about the suicides of youths. Though we know that bullying usually isn't the cause, many can understand that this behavior can be a contributing factor.
Take an hour to watch this educational and information film with your family.
Visit http://www.submitthedocumentary.com/ to learn more.
CONTESTS:
Within the Next Week @SubmitTheDoc are creating social sharing contests dedicated to building communities and continuing grassroots efforts.
The first set of contests will be a point system. Example: How many people can you get to view the film on your website(We are able to track this through our embedded codes). Number of views will equal points towards a title and rank. We will begin keeping track on October 24.
Another set of contests will be devoted to children/students. Example: Essay contest to win a host a screening package. We will include some t-shirts, Dvds of the film, and USB drives of the educational guide.