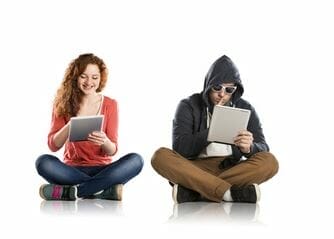 Are your children on Facebook? Are you sure you know who they're communicating with and what they're posting on there?
As a responsible parent, it's up to you to be aware of your teen's activities online. We've been responsible for their offline lives, and now it's time to shore up their online lives as well.
Case in point: A Boston-area teenager is still sitting in jail for some rap lyrics he posted after the Boston Marathon bombings.
Parents, it's time to sit down with your teens.
Teens and Facebook
Parents, make sure you understand Facebook before your teens start using it; familiarize yourself with the Facebook safety and privacy controls and be able to explain them to your teenager.
A Pew Internet Research report released in May showed that more than 90 percent of teens who are social media users have Facebook profiles. The Associated Press found that teens are doing a good job at using privacy controls to restrict the general public from viewing their Facebook feeds, but at the same time, they're sharing more pictures, stories and other personal information than ever before.
In April, Facebook and the National Association of Attorneys General announced a new online safety campaign. The program, along with the Facebook Safety Center, provides important information to teens and parents to help them better understand privacy settings and who can see their information.
'Think Before You Post'
Tell your teen that limiting posts to Friends or Friends of Friends doesn't prevent others from passing around your teens' pictures or other content. In the end, every Facebook user has to accept responsibility for the information he or she shares. A good rule for teens to go by: Don't post anything they wouldn't want their parents, teachers or employers to see, whether it's pictures from a party or girlfriends having fun trying on dresses at Macy's.
It's important your teens know how to post appropriately. It's easy for teens to get caught up with online activities that can sometimes lead to a thoughtless post. Teach them that posts have consequences; remind them to think how a post could affect others. Tell your teens to treat everyone with the same respect they hope to be shown online.
If your teen receives abusive or hurtful messages, they should tell you and report the offending post to Facebook.
Sit Down With Your Teen
Here are some good ways to help protect teens' privacy on Facebook:
Your teenager's profile. Click to the privacy levels page and explain to your kids what can be seen. Assure them that friends can see their posts, but it's best keep your teen's information off the public Facebook sections. For teens, the most secure setting is to only let friends see your profile and information.
Your teenager's photos. Photo sharing is a big part of what Facebook is about (why do you think they bought Instagram in 2012?), but make sure to keep the settings for public viewing on pictures off for Facebook. You can talk with your teen about posting images on Facebook and why it may cause some dicey issues in the teen's future. This is most apparent for teens as they apply to universities, jobs and other organizations. You and your teen can adjust the viewing settings of images so only friends can see them.
Your teenager's general information. The information posted on a general profile page may seem harmless to your teen, but having contact information, including email, a physical address and telephone number is an invitation to anyone snooping online. Help your teenager change these options immediately. There is a setting you can choose to ensure that your teenager's personal information is not found.
Your teenager's public profile. Limit how easily your teen can be found on Facebook. For anyone scouring Facebook's general public pages, their information comes up on this search. Choose the option that only allows friends and click off any boxes that allow for greater viewing options by strangers on Facebook.
Your teenager's contactability. Can strangers contact your teenager? If so, disallow that option. Reduce visibility of contact information and photos. You can disallow people from adding your teen as a friend or even contacting them at all.
By setting up guidelines for your kids' computer use and keeping a close watch on their online activities, you can help them stay safe. And that's our job, isn't it?
One last reminder, you are their role model, both online and off.  Your kids are watching your cyber-life just as much as you should be watching theirs.