Even with the strictest of privacy settings, we need to be self-aware of not only what we share online, but how we are sharing. Our social media behavior is a reflection of our offline character. Everyone knows that we don't get a second chance to make chance to make a first impression — today your first impression is likely your digital one.
Many people don't realize that even if their Facebook profile is secure in the highest settings for privacy, their profile and cover picture will always be public. This also means that the comments that are left on these images are wide open for the world to read too. It's important to keep tabs on them — since you can control them and delete them if they are distasteful.
In a Ghent University study, employers actually used the public profile pictures before deciding to interview potential applicants — that's an example of the  importance of what you share online today. It may not seem fair or appropriate – but it's happening.
From employers to colleges and even relationships, people are using the Google rinse cycle for initial background checks. If you were a victim of cyber-shaming, as I was over a decade ago, it can be troubling. Many don't take the time to decipher Internet fact from fiction. Smart people can – and – do make dumb digital decisions, and good people can fall prey to vindictive trolls or otherwise jealous foes.
Oversharing is probably one of the most common ways people fall into the trap of online reputation blunders or even disasters.
By practicing safe sharing, or simply improving the way you share your information, you can reduce your risks of becoming a victim of digital oops moments.
5 Ways to rethink social online sharing:
Is it necessary. Oversharing is what will get most people in trouble. Does everyone really need to know where you're eating or vacationing or is this a humblebrag?  Or maybe you just bought yourself a new Gucci purse – besides treating yourself, why share this globally? Is this being petty? Maybe — but some people reading it are either agreeing or seeing themselves.  According to a Harvard study, humblebragging can get you in trouble – they are perceived as less than credible, not well liked and viewed as insincere.  Not everything needs to be digitally documented.
Emotional sharing: The Internet is unforgiving. Face-to-face time or even talking to a friend is still a way to connect with those that care about you and won't linger online forever. Anger is temporary — the Internet is permanent.
Content you share: 15 minutes of humor is not worth a lifetime of humiliation. Will your post embarrass you or someone else? Never rely on privacy settings, as mentioned above, the unexpected can happen. This is your digital landscape.
Constructive sharing: You may not always agree with a comment or an article, yet feel strongly about your own opinion. Be sure you share constructively. Don't use a combative tone that usually causes conflict and contention.
Know your audience: Limit your viewership and create lists that have your target audiences (friends, families, co-workers etc). Take time to de-clutter your friends and contacts lists on your social platforms (including your cell phone). Sharing with the wrong people has consequences.  Maybe you have a target audience that enjoys seeing your vacations and restaurant trips (closest family members and friends) – create a specific list for that.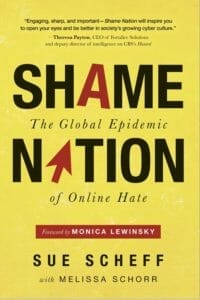 For more insights on digital wisdom for improving your online sharing skills and online reputation, order Shame Nation book. I've provided over 25 contributors and experts from around the globe with their firsthand stories and insights to help people learn from their experiences.
As we know, we're all a click away from digital disgrace. A Tweet away from losing a job. A post away from having college acceptance revoked. Isn't it time we start becoming aware of how we use the devices we are most attached to? Our keypads.
Order Shame Nation today.