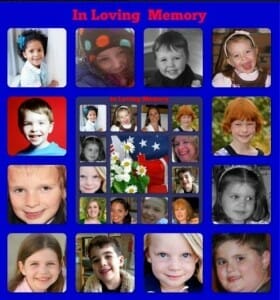 There are no words to speak after the Sandy Hook massacre.  What possesses anyone to take the lives of innocent people, especially children that done nothing wrong except get excited about going to school that morning.
Teachers that loved their work and loved their students as if they were their own children, died needlessly.
This tragedy will never be forgotten, much like Columbine, a time – a place – lives lost – and emotions felt that will take years (if ever) to heal.
Then we have to compound this the unsavory scams that are now popping up online.
Technorati's Shea Wong explains why all those "Likes," Re-Tweets, and shares could add up to cash for underhanded marketers:
Every time you like and share one of these images, the algorithm in the social media platform you are using assigns that image a level of importance – the more people who like and share, the higher importance that image has. That explains why sometimes you see the same image three or four times on your news feed. When people 'like' the page that created the meme (usually a name like "All The Newtown Babies Are Now Angels"), that page also rises through the algorithm rankings. The creator of the page then sells the page wholesale to the highest bidder in online marketer forums. The name of the page is changed (usually to a cheap product page) and your facebook feed gets flooded with sales spam.
More helpful tips offered from The Consumerist:
Regardless of whether it's in the wake of a horrifying tragedy or just because you feel charitable, there are numerous things to consider when looking to figure out whether a charity is legitimate or bogus:
Don't be shy about asking who wants your money. If you're solicited for a donation, ask if the caller is a paid fundraiser, who they work for, and the percentage of your donation that will go to the charity and to the fundraiser. If you don't get a clear answer — or if you don't like the answer you get — consider donating to a different organization.
Call the charity. Find out if the organization is aware of the solicitation and has authorized the use of its name. If not, you may be dealing with a scam artist.
Ask for written information about the charity. This includes its full name, address, and telephone number.
Contact the office that regulates charitable organizations and charitable solicitations in your state, The National Association of State Charity Officials has contact information for regulators in each state available on its website.
Your state office also can verify how much of your donation goes to the charity, and how much goes to fundraising and man­agement expenses.
You also can check out charities with the Better Business Bureau's Wise Giving Alliance and GuideStar.
Trust your gut and check your records.
Callers may try to trick you by thanking you for a pledge you didn't make. If you don't remember making the donation or don't have a record of your pledge, resist the pressure to give.
Be wary of charities that spring up overnight.
This is especially true after natural disasters. They may make a compelling case for your money, but as a practical matter, they probably don't have the infrastructure to get your donation to the affected area or people.
Watch out for similar sounding names.
Some phony charities use names that closely resemble those of respected, legitimate organizations. If you notice a small difference from the name of the charity you intend to deal with, call the organization you know to check it out.
Be wary of charities eager to collect cash.
If they say they are sending a courier or offering overnight delivery service to collect your donation immediately, you have to wonder whether the charity is legitimate.
Know the difference between "tax exempt" and "tax deductible."
Tax exempt means the organization doesn't have to pay taxes. Tax deductible means you can deduct your contribution on your federal income tax return.
Do not send or give cash donations.
Cash can be lost or stolen. For security and tax record purposes, it's best to pay by credit card. If you're thinking about giving online, look for indicators that the site is secure, like a lock icon on the browser's status bar or a URL that begins "https:" (the "s" stands for "secure")