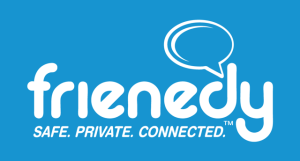 I write frequently about respecting age restrictions, especially as it pertains to social media sites.  Popular sites such as Instagram, Facebook and Twitter all clearly state you have to be 13 year-old to have an account – yet some parents have allowed their tweens to sign-up earlier.
Recently I was introduced to a new site that allows all ages.  For parents that have tweens or children, you may want to review this option.
Friendedy Puts Parent Back In Control
Frienedy, the first site of its kind that lets users of all ages manage life in groups, is a unique concept in social media that launched this April.  Engineered with parental permissions at the core, Frienedy complies with COPPA standards for users under 13.  The company has created a private online environment that leverages parental engagement for younger users to guide the social media experience while offering users of all ages a web application for managing all of life's "groups" in one place.
Until now, there has been a void in the social networking space both for users under age 13 and for managing content and social feeds for groups of all types.
According to Janel Patterson (founder and CEO of Frienedy), "Kids are getting online much younger than they were when today's social networking norms were first established, which has led to a rise in cyberbullying and cyber predators.  Parents need a tool that enables them to proactively introduce social media to their children on their terms- and before kids discover it themselves and risk becoming victims of their own innocence.  At Frienedy, our core mission is to prevent cyberbullying before it starts and promote positive digital citizenship for all ages."
There is also a market for managing social feeds and content for groups that have members of all ages. According to Jake Giganti, COO for Frienedy, "I grew up using social media.  I never saw an easy way to manage all of the events and social feeds and basic information for every group I was part of growing up.  Not just my soccer team and classes, but my different groups of friends.  And, now as an adult, I have even more social groups I'm part of and want to stay engaged with in an organized manner. Frienedy Groups solves this problem- but more compellingly- for users of all ages."
Groups can communicate privately and maintain practice or meeting schedules, classroom assignments, youth group activities, photos, videos, documents, even trigger last minute notifications for event changes.  Frienedy is unique because it isn't targeted at kids.  Rather, it's designed for every user in the social media world today who realizes the need to be selective about what, and with whom, content is shared.  For younger users, that is accomplished within their parents' terms and under discreet parental oversight.
Frienedy also includes a robust shopping list feature- called the WishList- to promote user engagement and make it simple to add a wish from any merchant online, follow other users' WishLists and streamline shopping for any gift or need.
Mobile apps are in development, and the website is currently mobile responsive for any device.  You can sign up for a free account by going to www.frienedy.com.