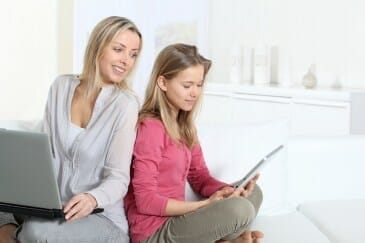 October is National Cyber Safety Awareness Month (NCSAM).

Does your teen know more about technology than you do?

It is time to catch up and be proactive in keeping your kids safe both online and off.
When safety trumps privacy – be a parent in the know!

Teens have access to unprecedented amounts of technology, and the problem is, they usually know how to use it better than their parents. With sexting, cyberstalking, cyberbullying and internet predators in abundance, parents need to closely monitor what their teens are doing on the internet and beyond. The best way to do this is to use the newest technology available to spy on their teens. Kids may not appreciate it, but it's important for parents to know what their teens are up to at this impressionable age when they don't always make good decisions.
Here are 10 ways to use technology to monitor your teen.
Nanny cam – Originally used to monitor in-home caregivers, nanny cams can be used to spy on your teens as well. These hidden cameras can be installed in common household objects and placed strategically throughout your home. Parents of teens may consider putting one in their teen's bedroom to make sure their child is not engaging in inappropriate behavior when they're not home.
Facebook – Friend your teens on facebook to monitor what they're posting on their facebook page. If you suspect they are blocking you from some of their postings, you could get sneaky and pose as someone else, such as another teen, to find out what they're really up to.
Twitter – It's also a good idea to follow your kids on Twitter to see what they're tweeting about. Your teen will be more likely to be careful about what they tweet if they know you're watching. This can help prevent inappropriate pictures being sent into cyberspace where they will live on forever.
Internet search history – Periodically check your teen's internet search history on their computer to see what they looking at when they surf the web. Are they doing research for homework or just watching You Tube? Make sure you block any porn sights and check to see if the blocks are still in place. Teens will find ways to get around your parental controls, so hold them accountable if they do.
Email – While you're at it, check on their email history too. Teens won't like the fact that you're doing this and will accuse you of invading their privacy. This is a legitimate concern, but so is your concern for their safety. Unless you know that they're using the computer responsibly, they shouldn't be allowed to use it unsupervised.
Computer monitor – If you want to know what your teen is doing on their computer and are concerned they will delete any information they don't want you to see, you can install a monitor to keep track of their computer activity. These monitors can record every keystroke, websites visited, take screen snapshots and give you detailed reports. This is the best way to monitor chat rooms, email and any social networking your teen is engaging in.
Remote monitoring – The technology is also available to have these monitoring reports sent to your email so you can stay informed of your teen's activities while you're away from home. This is a great feature if you travel a lot for business. It's also a good way for your child to let you know instantly if they're in trouble.
Cell phone monitor – You can get a similar monitoring system to track your child's cell phone activity. These devices will send you reports on their calls, texting, location, web history and any pictures taken. Teens with mobile phone technology are more likely to use it than their home computers. This is also a great way to deter teen abductions and know instantly if anything goes wrong.
Car monitor – Teens don't always use good judgment when they get behind the wheel, so a car monitor is another way to use technology to spy on them. These GPS devices not only track where your kids are going, but what speed they're driving and if they're out past their curfew. They can even be set to give your teen an audible warning if they're driving recklessly and emit an ear piercing sound if they're driving too fast or staying out too late.
Home security – Many people have security systems installed in their homes that can be used to spy on their teens. Security cameras can be reviewed plus checking the alarm history can let you know the exact time your child enters and leaves the house.
Of course your teen is not going to like all this monitoring, especially if you are doing it on the sly, so be sure to let them know what you're doing and why. Be careful not to overreact over every little piece of information you get or your teen will find ways to get around your monitoring. There's a delicate balance between ensuring your child's safety and just plain being snoopy. Give them as much privacy as you can, but be ready to broach their boundaries if you think they're in real danger.
My best advice I can give all parents about cyber-safety is that nothing replaces old-fashion offline parenting.  Communication is always key to helping your teens, tweens and children learn more about online safety, security, cyberbullying prevention and all things that pertain to digital life.  Offline parenting will help create a safer cyber-life.